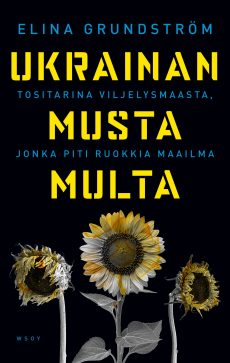 Publication date
March 2023
Publisher
WSOY
Format info
260 pages
Ukraine's Black Gold
Ukrainan musta multa
A True Story About the Soil That Was to Have Fed the World
A narrative account of a Nordic investor's ambitious attempt to control Europe's grain wealth.
The protagonist of the story is Joakim Helenius, a Finnish-born investment banker who moved to Estonia in the early 1990s. He is regarded as a visionary who realised, on the collapse of the Soviet Union, that vast areas of highly fertile black soil were about to be left without ownership and that it was possible to scale up the output of former collective farm fields. So, in 2006, as Ukraine sought to foster its agricultural market economy through land reforms, Helenius assembled a group of Finnish heirs, investors, and even rally drivers to found a company called Trigon Agri. They managed to take over nearly 200,000 hectares of black soil fields in Ukraine and Russia. It was a huge swathe of land on a par with the European kingdoms of the Middle Ages, and thirty times the size of Manhattan. Then they lost everything in the financial crisis. Journalist and writer Elina Grundström recounts the rise and fall of Trigon Agri, interspersing it with the story of the Ukrainian village of Šarivka, where the company's best fields were located, and of the villagers whose lives were changed by the arrival of the company. The book's second protagonist is Natalia Tverdohlib, who is forced by change to give up the teaching job she loves and become a market seller.
Ukraine's 'chernozem' black soil has been both a blessing and a curse for the people of Šarivka, starting with the Stalin-era Holodomor famine of the 1930s that was especially brutal to that area in particular; the perception of the superior fertility of black soil had led the Bolsheviks to set unrealistically high production targets for Ukrainian villages.
This book asks the question of whether hunger is returning to the world as Russia's war of aggression makes visible once and for all the importance of black soil fields for world food security. Its conclusion is hopeful, though, positing that much can still be saved through sustainable farming methods.
Material
Finnish Edition
Outline Author
Letter Reviews
Praise
'Exciting and compelling…' – Helsingin Sanomat newspaper