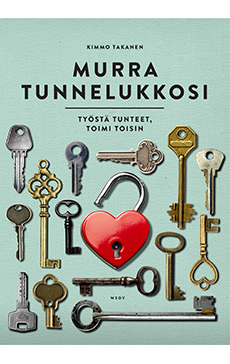 Publication date
2017
Publisher
WSOY
Format info
224 pages
Unlock Your Life Traps
Murra tunnelukkosi
A follow-up to the hugely successful Know Your Life Traps.
Weigh, test, and work your emotions, and learn to find alternative pathways out of the negative.
In his new Life Traps volume, Unlock Your Life Traps. Work Your Feelings, Make the Right Choices, Kimmo Takanen expands on what has been learned thus far.
Our emotional life traps have a negative bearing on our image of self and can adversely affect our behaviour. Breaking these locks through conscious development of self-image can teach us to find alternative ways of acting, and an improved self-awareness opens the way to growth towards a stronger, more rounded adulthood.
Unlock Your Life Traps offers keys and tools to unpick and unlock the emotional traps that hamper so many of us. It contains new tests and practical schema therapy exercises to begin the process of unlocking the negative and releasing the positive in our lives.
Rights sold
Estonian (Varrak)
Reading materials
Finnish edition