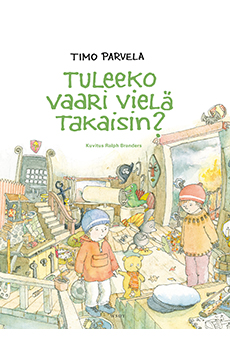 Illustrator(s)
Ralph Branders
Publication date
April 2009
Publisher
WSOY
Format info
29 pages Size: 203 mm x 260 mm
Will Grandpa Come Back?
Tuleeko vaari vielä takaisin
How to tell a child about losing a loved one?
Children are about to set off to a trip on the fun fair when there is a phone call. They learn that Grandpa has been taken to the hospital for heart trouble. Children draw "get well" cards and everyone wants to believe in a happy ending. Mum rushes to the hospital but when she calls home there is a long silence. Dad takes the children on his lap and tells them that Grandpa is no nore.
Timo Parvela has written a beautiful story of facing death and sorrow. Together with the main storyline there is a story of a yellow butterfly – a touching allegory of the limits of the human life.
Ralf Branders' subtle watercolour illustrations are full of sensitivity.
Timo Parvela is a prolific children's author and a master in capturing the child's mindset. His literary work has been translated into 17 languages.
Rights sold
Chinese (New Buds)
Reading material
Finnish edition