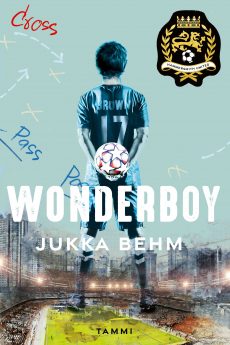 Publication date
July 2023
Publisher
Tammi
Format info
Wonder Boy
Westonin ihmepoika
Teenager Leon Brown's life changes irrevocably when he is discovered by a football scout and signed by the legendary London club Hammersmith United. Leon soon realises that his new life also comes with brand new problems— both on and off the pitch. Can the small-town wonder boy tackle them all?
Leon is thirteen and has been brought up in his aunt Agatha's family in the small town of Weston. Football has always been Leon's passion and escape from his dreary home life. Agatha's husband Jack always dismisses Leon, and has even denied him a place in the local team he coaches. Leon still plays but in the park, and usually with much older players than himself. Leon occasionally even posts his best footie clips online. When a seasoned football scout comes across the videos, things move at a pace. Soon Jack can only watch in stunned silence as Leon gets signed by the legendary London club Hammersmith United, and admitted into their player development scheme.
Leon must move to London to train at the Hammersmith Academy. In London, Leon also makes the shocking discovery that his mother, whom he has believed to be dead, is in fact very much alive. Yet there is a veil of mystery around her that Aunt Agatha is most reluctant to lift. Encouraged by Amadou, Leon's new friend at the Academy, the boys decide to find out more on their own.
At the Academy, Leon's talent on the pitch quickly propels him into the limelight and he even gets picked to train with the premier league team. But there are those who are not happy about Leon's success. There is also something shady going on with the Hammersmith United's management which threatens the future of the whole club. Leon finds himself a pawn in a game that is being played in the boardroom of the club and realises that he must stand up for himself. When the year is out and it's time for Leon to return to Weston for the summer break, there is one further surprise in store for him.
With WONDER BOY, Jukka Behm plays a blinder and scores. He gives readers the VIP box seats to witness, gasp and cheer as the humble yet immensely talented teenager Leon Brown navigates through the opportunities and challenges during the most exciting year of his life. WONDER BOY is a feelgood winner!
Material
Finnish Edition
Extensive English sample