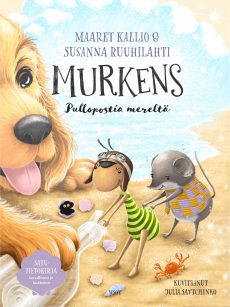 Illustrator(s)
Julia Savtchenko
Publication date
2023
Publisher
WSOY
Format info
Colour illustrated, 40pp, 200x266mm
Antsy: Message in a Bottle
Murkens: Pullopostia mereltä
Welcome to the enchanting world of Antsy, where emotions run high, friendships are forged, and the excitement of discovery awaits on every page. Antsy books provide children with useful tools to recognize and to cope with their emotions, and to enhance their friendship skills. Antsy's summer adventure tells about trust and security.
On a lovely summer's day at the beach Antsy can hardly contain his excitement: there is a message in a bottle floating in the sea! It must be ancient and brimming with secret knowledge! But how on earth can he get his hands on it? Antsy cannot do it on his own and needs several trusted friends, each with their unique skills, to fish the bottle ashore, and even to unveil the thrilling mystery of the message. The story revolves around the trust we place in our friends and the sense of safety and security that comes from such bonds.

The four Antsy books follow friends with different temperaments as they have exciting and emotionally challenging adventures in all four seasons. The autumn story deals with fear and overcoming it, the wintry tale delves into anger and upset, in the springtime love and joy come to play, and in the summer a thrilling discovery on the beach deals with the feelings of trust and security.
Maaret Kallio and Susanna Ruuhilahti have lent their expertise in emotional development into the creation of these fun yet effective stories that provide children with very useful tools as they encounter a spectrum of emotions and uncover the power of friendship. Julia Savtchenko's rich, full-color illustrations exude warmth and the joy of childhood. Antsy's Adventures are exciting and  comforting stories which capture children's emotional landscape  with understanding and empathy.
'Emotional skills cannot be simply acquired through performance; instead, they are continually learned in everyday life. Stories can serve as powerful tools in this regard. With Antsy books, we don't set out to teach about feelings, but rather, we rely on the power of storytelling. Stories can have a profound impact on individuals of all ages, as they connect with our inner selves in a way that mere knowledge or intellectual approaches cannot. Stories evoke emotions, trigger recognition of shared experiences, memories, and imagery, and ignite our imagination.' —  Maaret Kallio
Material
Finnish original
English translation of Books 1 & 2, set in layout
Series