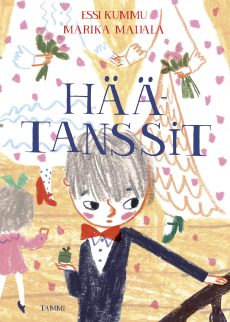 Publication date
January 2019
Publisher
Tammi
Format info
45 pages
Elias and the Wedding Waltz
Puhelias Elias Häätanssit
The third and final book in the Elias trilogy.
Home feels too full now that Mum's girlfriend Inari and her daughter have moved in. Mum even talks about marrying Inari. But Elias simply won't let that happen; it would ruin everything. Thankfully everything at Dad's is still the same. There's just the right number of people, and Elias can be sure he'll find his comic where he left it there…
Essi Kummu (b.1977) is a versatile author who has written highly-acclaimed short stories, novels, children's books and screenplays.
Series
Chatty Elias, 2012
Elias and the Practise Kiss, 2015
Elias and the Wedding Waltz, 2019
Format
45pp
4-colour illustrations
Ages: 5+
Material
Finnish PDF
Reviews
"Kummu's book will delight readers with its depictions of everyday life, bravery, humour and well-rounded characters who know how to express their feelings."– Kaleva newspaper
"The crayon illustrations represent shyness and the feeling of falling in love beautifully."– Aamulehti newspaper