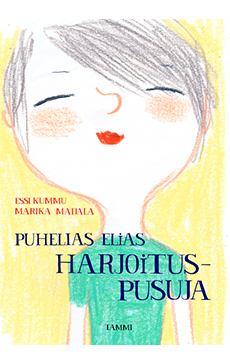 Publication date
2015
Publisher
Tammi
Format info
56 pages, four-colour illustrations, 5+
The Practice Kiss
Puhelias Elias. Harjoituspusuja
A sweet, insightful story about a boy's first kiss
This story, brimming with gentle humour, about Elias' very first crush is dedicated to everyone who was terrified of their first kiss. It also addresses the theme of new beginnings for parents in modern blended families. Marika Maijala's illustrations glow with summery warmth.
It's the first day of summer vacation, and the circus school is holding its spring party. Elias and his mum are looking forward to a performance by Inkeri's ensemble in the school auditorium. Suddenly, the auditorium fills with girls wearing pink and black leotards, tails and bunny ears. Elias looks away as he gets a funny feeling. Especially when one of the girls is Livia…
The Practice Kiss is Essi Kummu's second book for children. It is an independent sequel to Chatty Elias ('Puhelias Elias'), which was nominated for the Finlandia Junior award in 2012.
Praise for the work
"Kummu's book delights with its everyday life approach, bravery, humour and well-rounded characters who express their feelings." – Kaleva newspaper
"The crayon illustrations gorgeously depict the shyness, looks and gestures of falling in love." – Aamulehti newspaper