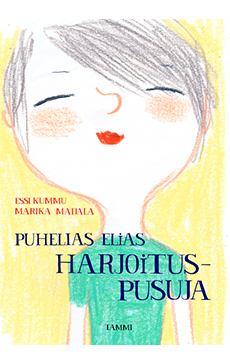 Publication date
2015
Publisher
Tammi
Format info
49 pages, four-colour illustrations, 5+
Elias and the Practice Kiss
Puhelias Elias Harjoituspusuja
A sweet, insightful story about a boy's first kiss.
Jam-packed full of gentle humour, this story about Elias' first crush is for everyone who was terrified of their first kiss. It's also a book about new beginnings for modern families. Marika Maijala's summery illustrations bring the book to life.
It's the first day of the summer holidays, and the local circus school is hosting a party. Elias and his mum are looking forward to seeing Inkeri's ensemble performance in the school auditorium. Suddenly the auditorium is full of girls in pink and black leotards, wearing tails and bunny ears. Elias turns away with a funny feeling in his tummy. Especially because one of the girls is Livia…
Essi Kummu (b.1977) is a versatile author who has written highly-acclaimed short stories, novels, children's books and screenplays.
Schedule
Book 1: Chatty Elias, 2012
Book 2: Elias and the Practise Kiss, 2015
Book 3: Elias and the Wedding Waltz, 2019
Format
49pp
4-colour illustrations
Age: 5+
Reading materials
English synopsis
English sample translation
Finnish edition
Reviews
"Kummu's book will delight readers with its depictions of everyday life, bravery, humour and well-rounded characters who know how to express their feelings."– Kaleva newspaper
"The crayon illustrations represent shyness and the feeling of falling in love beautifully."– Aamulehti newspaper