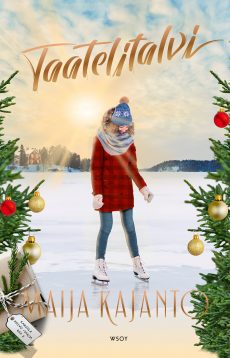 Publication date
November 2022
Publisher
WSOY
Format info
231 pages
Holiday Season at the Lakeside Inn
Taatelitalvi
Christmas arrives in a snowy Pyhävirta and with it surprising new turns. Kristiina 'Krisse' Kivimaa has settled into her new life in Pyhävirta running The Birch Tree Cafe for her grandmother. When the village begins attracting new tourists to the newly opened lakeside country inn, Krisse jumps at the opportunity to treat its guests to her freshly-baked date cake. But running both the café and hotel is more than a full-time job for Krisse, so when a big snowstorm strands a party of Dutch snowboarders and the hotel roof springs a leak, Krisse begins to worry that she might have bitten off more than she can chew. Meanwhile, Krisse's love interest, Tommi the mayor, starts acting distant, and events from a hundred years ago start to haunt her. And her beloved grandmother, Helmi seems to be keeping a secret from her.
As a new door opens to new possibilities in Krisse's life, she has to decide how much to importance to place on the opinions and wishes of others near to her. An equally delicious novel set against a snowy, Nordic backdrop as Christmas approaches and Krisse finds herself juggling a lot more than she had bargained for.
As in the first book, Summer at the Birch Tree Café, this standalone sequel also features short, mouthwatering recipes to tantalize readers sprinkled throughout the book's chapter openers.