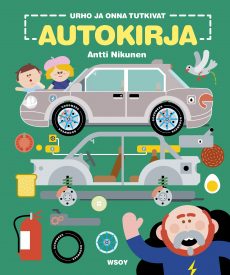 Publication date
2019
Publisher
WSOY
Format info
227 x 294 mm, 40 pages
Olly & Molly Explore: A Car
Urha ja Onna tutkivat: Autokirja
The number one book for future engineers!
Olly & Molly are growing fast, and so is their thirst for knowledge! Like all five-year-olds, they want to learn exactly how everything works. This Olly & Molly book focuses on the mechanics of a car, as explained by engineer Handy Andy. Enjoy learning with the colourful and fun Olly & Molly!
Antti Nikunen has a graphic design background and he is the art director of a magazine. The Olly & Molly series was born out of Antti's desire to bring humour into books for toddlers.
Schedule
Olly is a Caretaker, 2017
Molly is a Policewoman, 2017
Olly & Molly's Sticking Plaster Book, 2018
Olly & Molly Explore: A Car, 2019
Olly & Molly Explore: A Human, due 2020
Format
40pp
Colour illustrated
Ages: 5+
Rights sold
Chinese, simplified (United Sky)
Reading materials
Finnish edition with English text (set in layout)
Prizes and nominations
2019: Nominated for the Rudolf Koivu prize