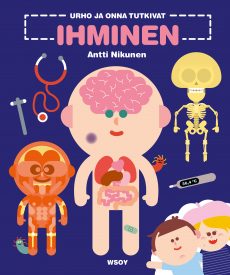 Publication date
April 2020
Publisher
WSOY
Format info
227 x 294 mm, 40 pages
Olly & Molly Explore: A Human
Urho ja Onna tutkivat ihminen
Explore the human body and its amazing functions with Olly & Molly, featuring guidance from Nurse Sally.
This fun, factual picture book gives readers an educational overview of the human body: the brain and its emotions, the intestines, the heart and its blood vessels, skin and its body hairs. There's so much to learn, like how to separate the good bacteria from the bad, how eyes work, why hair grows, what exactly a bump on the head is, and so much more!
Antti Nikunen has a graphic design background and he is the art director of a magazine. The Olly & Molly series was born out of Antti's desire to bring humour into books for toddlers.
Schedule
Olly is a Caretaker, 2017
Molly is a Policewoman, 2017
Olly & Molly's Sticking Plaster Book, 2018
Olly & Molly Explore: A Car, 2019
Olly & Molly Explore: A Human, due 2020
Format
40pp
Colour illustrated
Ages: 5+