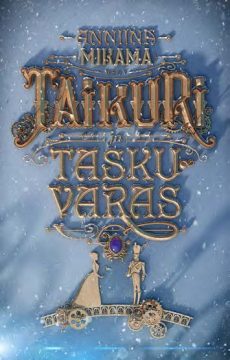 Publication date
Publisher
WSOY
Format info
417pp
The Illusionist and the Thief
Taikuri ja taskuvaras
Winner of the Topelius Prize 2019!
"As magical as The Night Circus by Erin Morgenstern and Caraval by Stephanie Garber." (Unelmien Aika)
"I await with baited breath for the next part!" (Markus, age 15, Lukufiilis)
Mina, an orphan, is forced to steal in order to survive on the streets. Tom is a young inventor and illusionist whose Theatre of Wonders enthralls its audiences night after night. The two meet in Helsinki in the winter of 1890, and Mina is offered a place in Tom's household as a maid and a companion to Professor Worowski, Tom's old, wheelchair-bound friend. She also soon becomes part of the show in which Tom's mechanical contraptions magically spring to life. Tom and Mina discover that they are more to one another than mere friends, but both are troubled by dark, inexplicable things in their pasts. They are caught up in a whirlwind of scheming and pursuit, which only their courage will help them to overcome – and the odd magic trick up their sleeve.
"I can assure you that you shall be deluded for all your money's worth!"
The Illusionist and the Thief launches a magical trilogy teeming with trickery, collusion, and suspense. The second book in the trilogy, The Conman's Apprentice is published by WSOY in March 2019, and the third in March 2020.
Winner of the Best Couple in a YA Novel at HEL-YA Readers' Vote 2018!