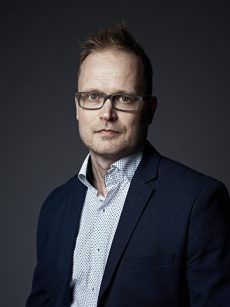 Jukka Behm
Jukka Behm (b. 1973) is a Finnish author. He was born in Riihimäki, and currently lives in Kouvola in South Finland.
Many of Behm's novels are based outside of Finland and have been influenced by his travels to India, Sri Lanka and West-Africa. Behm's first novel Dr. Mumbai (Tammi 2007) won the Bonnier Nordic Novel Competition in 2007 and was translated into Swedish and Norwegian. His second novel Gone Travelling (Matkoilla, Tammi 2009) is based in Thailand. And Gifts for the Elephant God (Lahoja norsujumalalle, Tammi 2013), an example of soft crime at its best, is based in India. The series' second novel is called A Faulty Whitening Cream (Viallinen Valkaisuvoide, Tammi 2016).
Bunny Girl (Pehmolelutyttö, WSOY 2017) is Behm's first YA novel. It was awarded WSOY's Young Adult Novel Writing Competition and it was shortlisted for the prestigious Finlandia Junior Award in 2017.