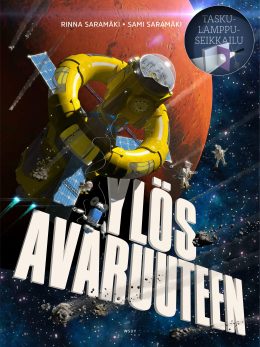 Publication date
March 2021
Publisher
WSOY
Format info
40 pp. Age 4-8 years
Flashlight Adventures: Into Outer Space
Taskulamppuseikkailu: Ylös avaruuteen
Turn on your flashlight and let the space adventure begin! A genious novelty effect achieved without additional printing costs!
The crew aboard the spacecraft Kaguaan have been tasked with transporting cargo to the moon station. But once they reach the Moon they learn that all contact with the base station in Mars has been down since the recent solar storm! The Kaguaan sets off for Mars on a mission to solve the problem only to come face to face with a huge asteroid that is heading towards Earth. 'Houston, we have a problem!'

The planets, meteors, and northern lights begin to wonderfully glow as you illuminate the pages of the book with your flashlight. The sky is not the limit!
Into the Outer Space continues the popular Flashlight Adventures series. The series exemplify a totally new picture book concept, which invite the reader to search and explore. Light up its pages with a flashlight and the book's hidden images will mysteriously appear!
The Flashlight Adventures series will include one new book release annually. Upcoming stories will see our fearless explorers conduct a mountain rescue operation and explore a city's underground tunnels during a major power cut. Although their stories are fictional, these books are factually accurate and perfect for any 4-8 year-old with a curious mind!
Series
Into the Deep Sea, 2018
Into the Depths of the Earth, 2019
Into Outer Space, 2021
Rights sold
Chinese, simplified (Mysterium/Guangxi Normal University Press Group Co., Ltd.)