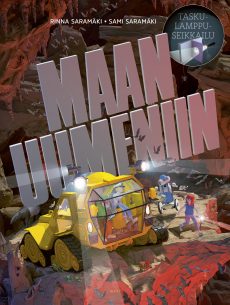 Publication date
2019
Publisher
WSOY
Format info
40 pages
Flashlight Adventures: Into the Depths of the Earth
Taskulamppuseikkailu: Maan uumeniin
Turn on your flashlight and let the adventures begin!
Jungle vehicle Kaldera embarks upon an underground adventure when Luttinen follows his nose and heads into the depths of an abandoned mine. The journey continues into a cave and becomes more and more dangerous along the way. How will Kaldera's crew survive as red-hot lava bubbles in the depths of the cave and their torch starts to run out of battery?
Into the Depths of the Earth continues the popular Flashlight Adventure series. When you put a flashlight behind the book's pages, its hidden pictures start to mysteriously glow. A flashlight will reveal secrets from the depths of the earth, which propel the exciting expedition forwards.
The Flashlight Adventures series will include one new book release per year. Upcoming stories will see our fearless explorers perform an archaeological excavation, conduct a mountain rescue operation and explore a city's underground tunnels during a major power cut. Although their stories are fictional, these books are factually accurate and perfect for any 4-8 year-old with a curious mind!
Sami Saramäki is an award-winning illustrator whose work has been featured on milk cartons, adverts and book covers. Riina Saramäki is famous for her arts and craft books. Into the Deep Sea is her first children's book.
Series
Into the Deep Sea, 2018
Into the Depths of the Earth, 2019
Into Outer Space, 2021
Format
Hardcover
40pp
Colour illustrated
Ages 4-8
Material
English translation set in lay-out
Finnish PDF
Rights sold
Chinese (Mysterium)
Korean (Borim Press)