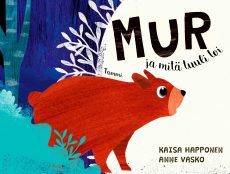 Publication date
September 2022
Publisher
Tammi
Format info
40 pp., 260 mm x 195 mm
Mur and the Wind
Mur ja mitä tuuli toi
A picture book about intuition and daring.
In the latest story in the beloved Mur picture book series, Mur meets another bear who is almost like Mur herself – the same size and just as curious.
A bear stands up on its hind legs as it grabs hold of a scent in the air, a trail.
A trail is, however, just a foreshadow of something you cannot yet see with your own eyes.
But should you dare to follow the new trail wind has brought you, you might find a friend.
The forest has changed, and new winds are blowing there.
Mur and the Wind continues Kaisa Happonen and Anne Vasko's larger-than-life Mur picture book series, which has enchanted readers around the world. The opening part of the Mur series has already been translated into eighteen languages.
The Series
A Bear Called Mur, 2016
Mur and the Blueberry, 2018
Mur and the Star, 2019
Mur and the Raindrop, 2020
Mur and the Wind, 2022
and the bedtime story collection The Woodland Night, 2021
Format
40 pages, 260 mm x 195 mm
Age 3+
Material
Finnish edition
English translation