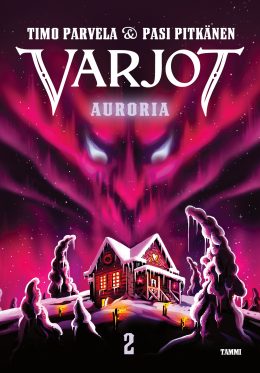 Publication date
June 2022
Publisher
Tammi
Format info
168 pp. colour illustrated, age 9+
Shadows: Book 2. Auroria
Varjot. Kirja 2. Krampus
The gates to Santa's world are opened!
Pete and Sara find the secret gateway to Auroria, the land of Father Christmas, but it is a far cry from what they expected:
Imagine an elf village. Cute cottages with frosted windows. Imagine reindeer, red-cheeked elves and the jingle of the bells. And then forget it all. It's just a fairy tale.
The darkness has descended upon Auroria. The previously harmonious elves, earthlings, imps, trolls and giants, are now at odds with each other. Who should Pete and Sara trust? And what secrets are revealed from Santa's old notebook?
Material
English full translation set in lay-out
Synopsis in English
Series presentation in English
Finnish original
Rights sold
Danish (Straarup & Co.)
Dutch (Condor/WPG Kindermedia)
Estonian (Helios)
German (Ars Edition)
Lithuanian (Alma Littera)
Polish (Dwukropek)
Series