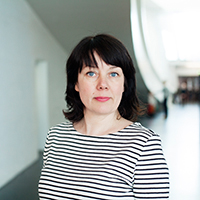 Anne Vasko
Anne Vasko (prev.Peltola) is a multi-talented picture book author and illustrator whose works reflect her compassionate, open-minded and innovative creativity and the sheer loveliness of her person. Anne draws inspiration from the Nordic nature of her native Finland, especially its forests and light. She strives to experience life with joy and positivity (although we believe she keeps her Gandhi-like cool only because her hobbies include going ice swimming in the winter!). Her art studio companions include two seal dogs who often feature in her illustrations.
Anne studied at the Aalto University School of Arts, Design and Architecture and has a Masters Degree in Fashion and Textiles. She is a famed illustrator and has also published several works of her own. The currently best-known of these is the children's picture book Lion the Great (Jellona Suuri), illustrated with textile collages, which won the Rudolph Koivu prize in 2010. The Lion illustrations were exhibited at the BIB International Illustration Biennial in Bratislava. In 2017 this honor shall be repeated with illustrations from her most recent book A Bear Called Mur, written by Kaisa Happonen. Kaisa and Anne's collaboration in A Bear Called Mur has also resulted in an award-winning App "MUR" developed by Step In Books, 2017.
Anne's book Lion the Great has been published in Japan, and Puolukkavarvas, a children's poetry book by Johanna Venho and illustrated by Anne has been published in France by Hatier Jeunesse in 2009.
2017 Anne Vasko has been nominated for the ALMA 2017 (Astrid Lindgren Memorial Award).