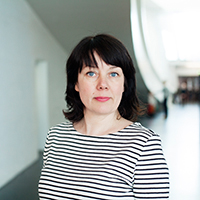 Anne Vasko
Anne Vasko (née Peltola) is a award-winning picture book author and illustrator whose work reflects her creativity, compassion and open-mindedness. Anne loves Nordic nature and she draws on her native Finland for inspiration. Two seal dogs, who often feature in her illustrations, accompany Anne in the studio.
Anne studied at Aalto University School of Arts, Design and Architecture and has a masters degree in Fashion and Textiles. She's a famous illustrator who has also published several of her own books. Her picture book Lion the Great (Jellona Suuri, WSOY 2010) was illustrated with textile collages and won the Rudolph Koivu prize in 2010. This book's illustrations were exhibited at the BIB International Illustration Biennial in Bratislava. In 2017 this honor was repeated when her illustrations from A Bear Called Mur (Mur, eli karhu, Tammi 2018), by Kaisa Happonen, were also exhibited. A Bear Called Mur also inspired the Bologna Ragazzi award-winning App "MUR", which was developed by Step In Books in 2017. Publishing rights for A Bear Called Mur have been sold to 17 territories to date.
Lion the Great has been published in Japan, and Lingonberry Toe, a children's poetry book by Johanna Venho and illustrated by Anne, was published in France.
In 2017 Anne Vasko was nominated for the  ALMA 2017 (Astrid Lindgren Memorial Award) and this distinction was repeated in 2021.
Read more about Anne Vasko on her website.