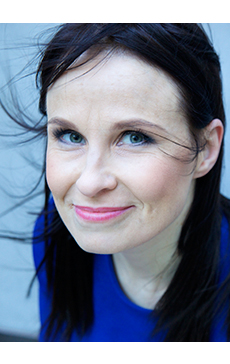 Seita Vuorela
Seita Vuorela´s (formerly Parkkola) (1971-2015) books blast the conscious mind. Linguistically, she wrote intense and ambitious prose. Vuorela's work take readers into the vivid battle between good and evil. Her resounding message to readers say: Gather up good forces and question conventional outlooks and attitudes!
Seita Vuorela's works have been translated into English, French, German, Italian, Swedish, Norwegian, Danish, Hungarian and Serbian languages.
Her novel "Storm" was awarded the Best European Young Adult Prize (Prix Pépites) at the Montreuil Children's Book Fair in 2011. The French title is "Une Dernière chance", published by Actes Sud Junior. Her novel The Reef won the Nordic Council Literature Prize for Children and Young Adults in 2013.
Awards
2013 Winner of the Finnish Literary Export Prize
2013 The Nordic Council Literature Prize for Children and Young Adults
2011 The Best European Young Adult Prize (Prix Pépites)
2006 Nominated for the Junior Finlandia prize
Works
The Reef (Karikko), WSOY 2013
Mist (Usva), WSOY 2009
Fame (Loisto), Express Limits vol.2, with Niina Repo, WSOY 2008
Promise (Lupaus), Express Limits vol.1, with Niina Repo, WSOY 2007
The School of Possibilities (Viima), WSOY 2006
The Refinery (Jalostamo), with Niina Repo, WSOY 2004
The Castle of death (Ruttolinna), with Niina Repo, WSOY 2002