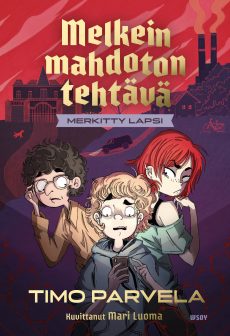 Publication date
2022
Publisher
WSOY
Format info
112 pages, colour illustrated, 9+
Mission Nearly Impossible 1. The Marked Child
Mahdoton tehtävä 1. Merkitty lapsi
An exciting mystery about a boy who is sent on a mission to unearth who he is.
Packed with Roald Dahl-esque humour, Parvela's dark and compelling new mystery series asks readers to consider the world's most interesting question: who am I really?
Elias arrived at Aunt Paula's house as a baby with a tattoo of an asterisk on his ankle, bundled into a laundry bag. Now 12-years-old, Elias still doesn't have a clue where he came from – but he regularly wonders who'd tattoo a baby and why?
When Elias finds a working mobile phone at a landfill outside Aunt Paula's house, his life is about to take an interesting turn. Scrolling through the messages he comes across a picture of a family, and a familiar looking starshape is visible on the ankle of the baby. When a message pings in on the new phone; tasking its recipient with a mission – one that sounds impossible – Elias finds himself rising to the occasion. After all, it could lead him into finding out who he really is!
The Mission Nearly Impossible is a mystery series, which grabs the reader from the very beginning and doesn't let go until the very end. The story of Elias and his past unfolds in full over three books. The suspense story's milieu, complete with landfills and old mansions, has been skilfully illustrated by Mari Luoma.
Material
Finnish Edition
English translation sample available soon