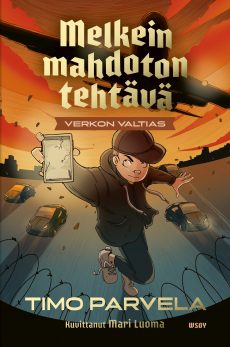 Publication date
October 2023
Publisher
WSOY
Format info
132pp
Mission Nearly Impossible 3: Master of the Web
Melkein mahdoton tehtävä 2: Verkon valtias
The mystery of Elias's past is about to be revealed in the third part of Parvela's dark and thrilling series, but what are the implications of the truth to Elias's present and future?
"Mission Three: Stop von Maxx."
Just as Elias is about to learn everything he has ever wanted to know about his family, the dangerous von Maxx kidnaps him to his sinister mansion. The depth of von Maxx's wickedness begins to dawn on Elias, and he realizes he is in greater danger than he could have ever imagined. However, help arrives but from the most unexpected source…
Timo Parvela's thrilling series, spiced with Roald Dahl-esque humor, provides answers to the mysteries in the third installment. The chilling environments of the suspenseful story are illustrated by Mari Luoma.
Material
Finnish Edition
Full English translation of Books 1-3 set in layout
Rights sold
Polish, Books 1-3 (Dwukropek)
Praise
"Parvela knows how to write engagingly for young readers who read little or avoid books. There is nothing superfluous, and the plot never stalls for a moment….…you can't bear to put down. It would be a nearly impossible mission in itself." – Mari Viertola, Turun Sanomat, of Mission Nearly Impossible 1
Series