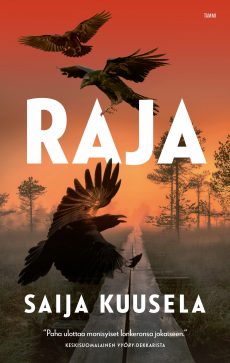 Publication date
October 2023
Publisher
Tammi
Format info
330 pages
The Border
Raja
As the autumn colours glow bright on the fells, Detective Nea Guttorm plunges into a compelling mystery surrounding the disappearance of her own mother.
Nea Guttorm receives a lead about her mother, who disappeared years ago, like ashes on the wind. Her heart full of fear and hope, Nea follows the snippets of information and sets off alone on a journey to Finnish Lapland. Across the border, she faces a foreign land — and a dark secret. It will burn to the ground anyone who ventures too close.
Book 3, THE BORDER is a standalone sequel in the powerful psychological detective series featuring Nea Guttorm that sees the half-Sámi police officer embarking on a deeply personal mission. It's a story of limits, maternal love, and betrayal in the cruel embrace of northern nature for fans of the hyperborean crime novel.
rights available
Material
Finnish Edition
Synopsis
Reviews
Nea Guttorm series