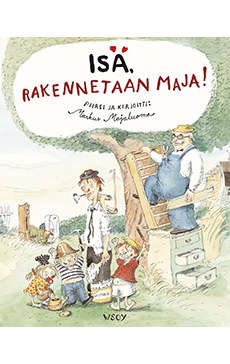 Publication date
2004
Publisher
WSOY
Format info
46 pages Size: 214 mm x 271 mm
Dad, Let's Build a Tree House!
Isä, rakennataan maja
"Wow, finally somebody has cleaned up this house!" says unsuspecting Dad, coming home from work.
As Dad sits down in his favourite garden chair, he realises why the house was so clean and uncluttered. The furniture is piled in the middle of the yard, with his children running up and down the slopes.
Nervous breakdown and heart attack are looming close, when Dad's neighbour convinces him that this is the perfect time to build a tree house, since all accessories are already there in a neat pile. Dad and the neighbour get a bit carried away, and the kids have no choice but to build a tree house of their own. Their materials include a cardboard box and sawdust. What fun!
But what to do with two tree houses? How does Dad end up sleeping in the children's cardboard box? And what does Mom think when she comes home that night? This is the third book in a series by Markus Majaluoma, a renowned Finnish graphical artist. The foolings around of Dad and his kids give new meaning to the concept of 'quality time'.
The book depicts the joys and sorrows of family life, with a wealth of realistic yet humorous observations.
Rights sold
Arabic (Dar Kreidieh)
Chinese (Beijing Science and Technology Press)
Polish (Bona)
Danish (Turbine)