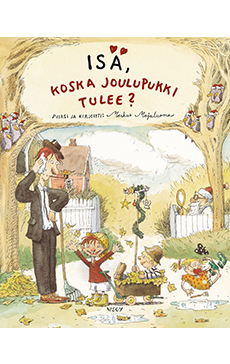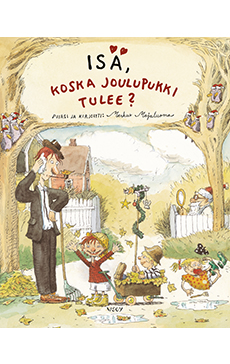 Publication date
2005
Publisher
WSOY
Format info
46 pages Size: 215 mm x 272 mm
Dad, When is Santa Coming?
Isä, koska joulupukki tulee?
A phone call from Santa!
"Dad, when is Santa coming?" is a question that echoes in thousands of families well before winter. This is the case with the Rosewood family as well, and the children are not letting their Dad off the hook.
When it's Christmas and Santa should be knocking on the door, there is suddenly a phone call. It's Santa himself. He says that unfortunately he can't come to the Rosewoods because of the bad weather. Well, not to worry! Dad can do the Santa act. But what happens when the neighbour, Mr Potham, gets the same idea?
Soon the first Santa appears on the doorstep. The children think he looks very much like Mr Potham. In a minute, another bearded man dressed in red is knocking on the door, and there is something very familiar about him, too. But the third visit is a big surprise to everybody?
This Christmassy picture book by Markus Majaluoma is the fourth in a series featuring the adventures of the Rosewood family.
Rights sold
Danish (Turbine)
Hungarian (Koinonia Publishing House)
Simplified Chinese (Beijing Science and Technology Press)
Polish (Bona)
Russian (Samokat)
Reading material
Finnish edition
Polish edition
Russian edition
Chinese edition