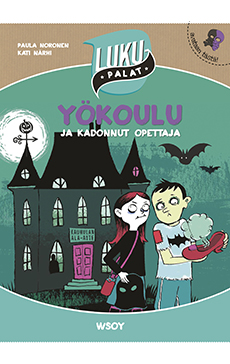 Illustrator(s)
Kati Närhi
Publication date
2016
Publisher
WSOY
Format info
64 pages, colour illustrated
Night-School and the Missing Teacher
Yökoulu ja kadonnut opettaja
Going to Night-School – what could be more fun?
Except when your teacher mysteriously disappears and is replaced by a substitute who is fascinated by gloomy things… Paul, a zombie boy, and Martha, a vampire girl, are missing their teacher Miss Dread so they decide to investigate!
Paula Noronen (b. 1974), who has been nominated for the prestigious Finlandia Junior Prizetwice, is a celebrated author, columnist and comedian. The Night-School series is filled with Paula's wonderfully wacky humour. Kati Närhi (b. 1973), an award-winning comic artist, enhances Noronen's weird and wonderful humour with her inventive illustrations.
Prizes and nominations
Nominated for the Runeberg Prize, 2016
Series
Night-School and the Missing Teacher, 2016
Night-School and the Vengeful Neighbours, 2017
Night-School: The Case of the Golden Sneakers, 2018
Night-School: The Secret Mission, 2019
A Guide to the Horrors of Night-School, 2019
Night-School and the Terrible Tooth Fairy, 2020

Format
64pp
Age: 6+
Material
Finnish PDF
English translation, set in layout
Praise
"A book that will surely entertain beginner readers." – Runeberg Prize Jury