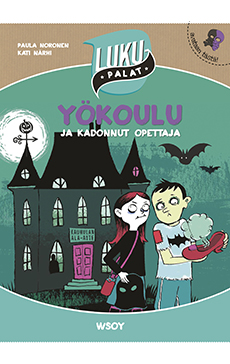 Publication date
2016
Publisher
WSOY
Format info
64 pages, colour illustrated
Night School and the Missing Teacher
Yökoulu ja kadonnut opettaja
A school for creatures of the night opens its doors – do come in!
Paula Noronen's frightfully fun Night School features Paavo, a zombie boy (with a bed in a grave), and Martta, a vampire girl (whose hobbies include tombstone-parkour). So how about it? Going to night school – what could be more fun? Except when your teacher mysteriously disappears and is replaced by a substitute who's fascinated by gloomy things…
Paavo and Martta decide to investigate the mystery of their missing teacher. They find one of their teacher's beloved smelly shoes behind the classroom door. Will it lead them down the right path?
Night School and the Missing Teacher is a humorous, fast-paced adventure for all fans of strange phenomena. Even the school is unique, with its student body made up of zombies, vampires and other creatures of the dark.
Night School and the Missing Teacher is published within our new "easy-to-read" series called "Bite-sized Stories" and there should be more Night School books in the future!