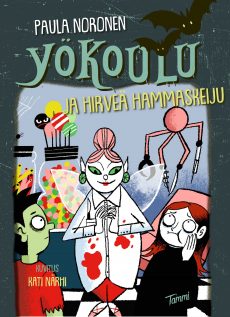 Publication date
2020
Publisher
Tammi
Format info
64 pages
Night-School and the Terrible Tooth Fairy
Yökoulu ja hirveä hammaskeiju
Hold onto your teeth, there's a terrible tooth fairy lurking in the shadows at Night-School!
A strange, new dental nurse has arrived at Night-School. She tells the children to stop brushing their teeth and eat lots of sweets.
It soon becomes clear that the new dentist is in fact a deranged tooth fairy who is collecting as many milk teeth as she can get her hands on so that she can use them for dishonest purposes. And the spooky tooth fairy's assistant is a menacing troll! Will vampire girl Martha and zombie boy Paul manage to defeat the fairy and, most importantly, will they be able to keep hold of their teeth?
The Night-School series is creepy, fun and a great read for all elementary school students.
Paula Noronen (b. 1974) , who has been nominated for the prestigious Finlandia Junior Award twice, is a celebrated author, columnist and comedian. The Night-School series is filled with Paula's wonderfully wacky humour. Kati Närhi (b. 1973), an award-winning comic artist, enhances Noronen's weird and wonderful humour with her inventive illustrations.
Series
Night-School and the Missing Teacher, 2016
Night-School and the Vengeful Neighbours, 2017
Night-School: The Case of the Golden Sneakers, 2018
Night-School: The Secret Mission, 2019
A Guide to the Horrors of Night-School, 2019
Night-School and the Terrible Tooth Fairy, 2020
Material
Finnish PDF
Format
Age: 5+