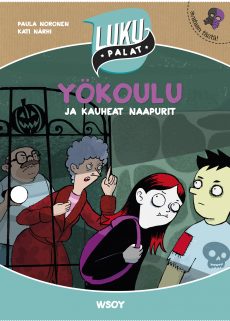 Publication date
2017
Publisher
WSOY
Format info
64 pages
Night-School and the Vengeful Neigbours
Yökoulu ja kauheat naapurit
The Night-School is under threat of closure!
A terribly frazzled couple live next door to the Night-School. They're disturbed by the noises that come from the school at night and they're determined to get the school closed down. But Paul and Martha are doing their best to stop this happening! Will they emerge as the heroes of the night or will the school face the chop?
Paula Noronen (b. 1974), who has been nominated for the prestigious Finlandia Junior Prize twice, is a celebrated author, columnist and comedian. The Night-School series is filled with Paula's wonderfully wacky humour. Kati Närhi (b. 1973), an award-winning comic artist, enhances Noronen's weird and wonderful humour with her inventive illustrations.
Series
Night-School and the Missing Teacher, 2016
Night-School and the Vengeful Neighbours, 2017
Night-School: The Case of the Golden Sneakers, 2018
Night-School: The Secret Mission, 2019
A Guide to the Horrors of Night-School, 2019
Night-School and the Terrible Tooth Fairy, 2020
Format
64pp
Age: 6+
Material
Finnish PDF