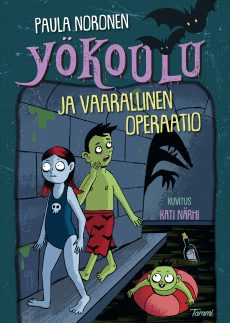 Illustrator(s)
Kati Närhi
Publication date
January 2019
Publisher
Tammi
Format info
64 pages
Night-School: The Secret Mission
Yökoulu ja vaarallinen operaatio
The easy-to-read and frightfully funny Night-School series cuts through first-graders like a knife… cuts through butter – and tickles their funny bones!
Zombie-poo causes panic in the pool! Miss Dread takes her night class swimming. You see, they only get to visit the pool when everyone else is asleep. All the pupils – including Paul Zombino, Martha Vampire and Sam Skeleton – are really excited about going swimming!
Paul's little brother, who is still just a zombie-baby, is taking a baby-swim class at the pool. But chaos ensues when a baby-turd escapes from his swimming-nappy and floats into the water! Amidst the panic, the pool's plug is pulled out and the swimmers get sucked into a labyrinth of underground drainage pipes! The children hear a blood-curling scream echo through the tunnels and they shiver with fright! Who – or what – is in the tunnels with them? And will they ever get out?
Paula Noronen (b. 1974), who has been nominated for the prestigious Finlandia Junior Prize twice, is a celebrated author, columnist and comedian. The Night-School series is filled with Paula's wonderfully wacky humour. Kati Närhi (b. 1973), an award-winning comic artist, enhances Noronen's weird and wonderful humour with her inventive illustrations.
Series
Night-School and the Missing Teacher, 2016
Night-School and the Vengeful Neighbours, 2017
Night-School: The Case of the Golden Sneakers, 2018
Night-School: The Secret Mission, 2019
A Guide to the Horrors of Night-School, 2019
Night-School and the Terrible Tooth Fairy, due 2020
Format
64pp
Age: 6+
Material
Finnish PDF