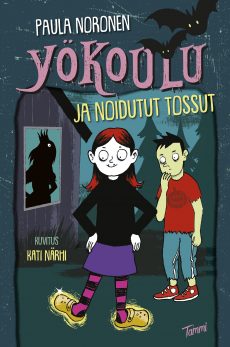 Illustrator(s)
Kati Närhi
Publication date
2018
Publisher
Tammi
Format info
64 pages
Night-School: The Case of the Golden Sneakers
Yökoulu ja noidutut tossut
Zombie-boy Paul and Vampire-girl Martha get caught up in a swirl of sneakers.
A parcel containing seven pairs of gold sneakers arrives at the Night-School, which means seven lucky pupils each get a pair! But the sneakers come with a spell that leads Martha and the other children to danger! Paul sets out to solve the mystery, accompanied by ware kitten Misty. A witch, who lives in a strange gingerbread house, may be concealing her intentions when she invites the children in for a cookie. And what about those seven strange dwarfs? Could they have something to do with the sneakers' spell?
Paula Noronen (b. 1974), who has been nominated for the prestigious Finlandia Junior Prize twice, is a celebrated author, columnist and comedian. The Night-School series is filled with Paula's wonderfully wacky humour. Kati Närhi (b. 1973), an award-winning comic artist, enhances Noronen's weird and wonderful humour with her inventive illustrations.
Series
Night-School and the Missing Teacher, 2016
Night-School and the Vengeful Neighbours, 2017
Night-School: The Case of the Golden Sneakers, 2018
Night-School: The Secret Mission, 2019
A Guide to the Horrors of Night-School, 2019
Night-School and the Terrible Tooth Fairy, 2020
Format
64pp
Age: 6+
Material
Finnish PDF