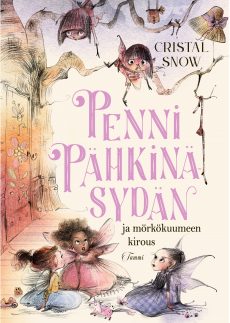 Publication date
October 2021
Publisher
Tammi
Format info
186 pp., Age 7+
Penny Peanutheart and the Curse of the Brute Bug
Penni Pähkinäsydän ja mörkökuumeen kirous
Would you help someone who always makes fun of you? Another heartfelt moment of growth in the life of Penny.
Penny Peanutheart and the Wretched Banishment Cake (#1) was Publisher Tammi's bestselling Children's book in 2020!
Penny Peanutheart and the Curse of the Brute Bug (#2) reprinted within 10 days of publication!
Penny Peanutheart's classmate, the beautiful Hilda Honeydew, is everyone's favourite fairy in the woods. And pretty she may be, and polite to others but not to Penny: Hilda loves making fun of Penny and it is hurtful. Nonetheless, when an autumn spat of brute bug hits Hilda hard, Penny cannot turn her back on her. Liana and Vilina by her side, Penny makes it her mission to help her the best she can. And the result? It's both beautiful and brutish.
Penny and Hilda are both in for a surprise as they come to grips with their new outlooks; on themselves and each other, inside and out!
The book deals with fears and of being seen as different, and what can happen if things are not talked about honestly and openly.
Penny Peanutheart and the Wretched Banishment Cake marked the debut of this brand new series in Autumn 2020 and was promptly nominated for both Runeberg Junior and Arvid Lydecken prizes. This charming series follows the lives and friendships of a fairy girl Penny in Windnest Woods. The thrid part is due in 2022.
Material
Finnish edition
Synopsis
Series presentation
Rights sold
Polish (Nasza Księgarnia)
Russian (Polyandria)
Series