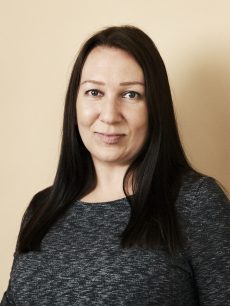 Anniina Mikama
Anniina Mikama (b. 1977) is an illustrator and author who lives in Helsinki. She loves comic book superheroes, old mechanical machinery and the secret world of theatre that exists behind the stage curtains.
The Illusionist and the Thief is Mikama's debut title. It launches a magical trilogy that is packed full of trickery, collusion, and suspense. The second book in the Illusionist trilogy is The Conman's Apprentice which came out in 2019. The third and final part, The Masters of Illusion, was published in March 2020.
Anniina Mikama won the Topelius Prize in 2019 with The Illusionist and the Thief,  her debut title. This book also won the "Best Couple in a YA Novel" prize at HEL-YA Readers' Vote 2018!
The Conman's Apprentice was nominated for the Finlandia Junior Prize for the best C&YA title in 2019, and for the Junior Young Aleksis Prize in 2020.