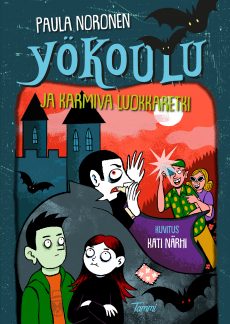 Illustrator(s)
Kati Närhi
Publication date
March 2021
Publisher
Tammi
Format info
54 pp, 6+
Night School and the Creepy School Trip
Yökoulu ja karmiva luokkaretki
Frightful fun on a school trip to Transylvania!
The pupils at Night School have raised money for their class trip to Transylvania by performing on the ghost train. When they arrive in Transylvania, they are all excited about meeting their famous horror heroes, especially the vampire of vampires himself, the terrifying Count Dracula.
Finally it's time for dinner at the Count's castle, but the event is a huge disappointment for vampire girl Martha, zombie boy Paul and their classmates. Dracula isn't scary at all! The tired vampire can't even fly anymore, let alone suck blood. His old friend, the once-bloodcurdling werewolf is also a mere shadow of himself, looking more like a lazy lap dog, and the ancient Zombie only scares people for money, not for the joy of the fright.
The horror veterans feel their time is well and truly over. But the pupils at Night School can't stand to see these seniors in such a disgraceful state, and they decide to take action!
The Night-School series is suitably chilling and hilarious read for primary school pupils!
Material
Finnish edtion
Series
Night-School and Ghastly Ghost Train, 2020
Night-School and the Terrible Tooth Fairy, 2020
A Guide to the Horrors of Night-School, 2019
Night-School: The Secret Mission, 2019
Night-School: The Case of the Golden Sneakers, 2018
Night-School and the Vengeful Neighbours, 2017
Night-School and the Missing Teacher, 2016