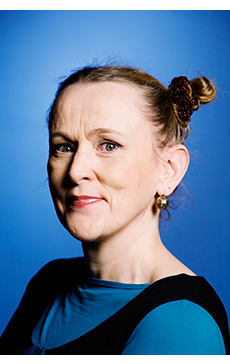 Virpi Talvitie
Virpi Talvitie's (b. 1961) first job in art was as newspaper and magazine illustrator. She began her career in children's book illustration in 1998 and, since then, she's illustrated works including: lyric poetry for children; non-fiction; short stories; novels for children, easy readers and old folk; and poetry books for adults and prose.
Talvitie uses oil pastels, which she combines with crayons and watercolours, for her illustrations.
Timo Parvela and Virpi Talvitie received the Finlandia Junior Prize in 2006 for their delightful work The Seesaw (Keinulauta, WSOY 2016), which explores themes of friendship and dissimilarity through the mind of a little bear called Pi.
Talvitie has been nominated for the Hans Christian Andersen Award three times, in 2006, 2008 and in 2012. She was awarded the WSOY Literature Foundation Award in 2010 and the Mikkeli Illustration Triennial Prize in 2011.
Selected works (illustrations)
The Seesaw, Keinulauta (WSOY 2006)
Merry-go-round, Karuselli (WSOY 2008)
The Wheel of Fortune, Onnenpyörä (WSOY 2010)
Purdy and Barker, Maukka ja Väykkä (Tammi 2009)
Purdy, Barker & the Giant Snowball (Maukka ja Väykkä ja mieletön lumipallo (Tammi 2009)
Purdy & Barker Build a House (Maukka ja Väykkä rakentavat talon (Tammi, 2011)
Purdy, Barker & the Big Adventure (Maukka ja Väykkä ja suuri seikkailu (Tammi 2011)
Purdy, Barker & Bear Growler (Maukka ja Väykkä ja karhu Murhinen, Tammi 2012)
Purdy and Barker's Story Book (Maukan ja Väykän satukirja, Tammi 2013)
Purdy and Barker's Little Book of Friendship (Maukan ja Väykän pieni kirja ystävyydestä, Tammi 2013)
Purdy and Barker's Snout Book (Maukan ja Väykän naamakirja (Tammi 2014)
Purdy and Barker Have a Good Day (Maukan ja Väykän hyvä päivä, Tammi 2017)
The Best of Purdy & Barker (Maukan ja Väykän parhaat, Tammi 2019)