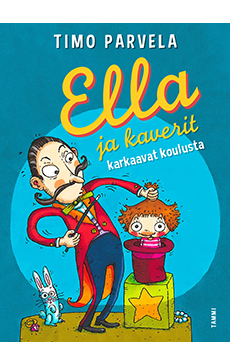 Publication date
2014
Publisher
Tammi
Format info
142 pages, B&W illustration
Ella and Friends and the Great Escape
Ella ja kaverit karkaavat koulusta
Ella and Friends Disappear!
In the latest book in the series, Ella her friends finally make it out of the second grade! But to their surprise, their new class isn't third grade, it's only two-and-a-half.
"I like school and our teacher, but I wish we had more homework," said Tiina. "They don't teach enogh nuclear physics at school these days," Tuukka complained. "Children should be able to decide for themselves what they want to do," said Quarreler. "Breaks should last longer and there should more of them," said Pate. And so we decided to run away from school and find a new one, where we'd all have fun all the time…
During their flight, the friends meet a mystical and slighlty frightening magician, Papadam, whose schemes threaten both the teacher's family as well as the future of the entire town.
Like the previous books in the Ella and Friends series, Ella and Friends and the Great Escape is a stand-alone sequel. Its larger format, easy-to-read text, and Mervi Lindman's spirited drawings are perfect for readers of all ages.
Timo Parvela's books are read enthusiastically by children and young people in several countries. The versatile Parvela is also known as a screenwriter and columnist. The gifted illustrator Mervi Lindman, beloved in Finland and abroad, has previously created the covers for the Ella books. In this book, the world of Ella and Friends comes to life through Lindman's expressive illustrations.