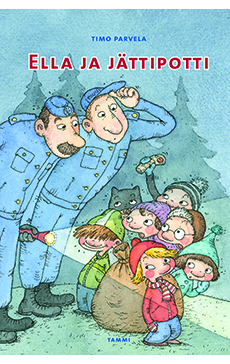 Publication date
2009
Publisher
Tammi
Format info
146 pages – 130 x 197 mm
Ella Hits the Jackpot
Ella ja jättipotti
My name is Ella. I'm still in the second grade. We have a nice class and a nice teacher. Or we used to. You see, our teacher disappeared and we won the lottery jackpot.
"What if the teacher's wife kidnapped him?" I asked.
"That's not possible. They're married," Hanna said doubtfully.
"My Dad says that Mom kidnapped him and forced him to go to the altar," said Petey. "And Mom says she wouldn't have if she had known that no one would pay the ransom," he continued.
Ella Hits the Jackpot is the ninth Ella book. This time the friends find a lottery ticket, lose it, look for an alibi, follow clues, empty the arts and crafts closet, and fill it again.
Praise for the work
"The wordplay in the Ella books is clever, genuinely funny and just the right touch of moving. The fundamental message gets through without preaching." – Savon Sanomat
"The themes of Ella Hits the Jackpot are money and lack of it, but Parvela knows how the turn trivial topics into a comical detective novel that both girls and boys will appreciate." – Pohjolan Sanomat