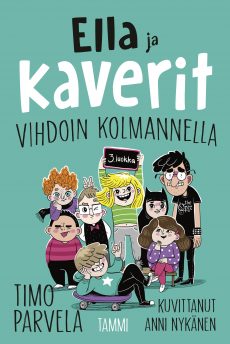 Illustrator(s)
Anni Nykänen
Publication date
2020
Publisher
Tammi
Format info
96 pp., 7+
Ella & Friends Finally in 3rd Grade
Ella ja kaverit vihdoin kolmannella
Ella and her friends shake off the dust from second (-and-a-half) grade, which they've been stuck in for years. They've finally made it to third grade!
And now that they're old and wise, they have bigger plans! Ella has decided to become an author, Thomas a professor, and Tina a business woman. Sam is the only one sticking with his old plan of being Batman. But Pete seems to have the most exciting plan of all: he is getting married! But although there is love in the air, Ella manages to hurt the one person she loves the most. Being a third grader is tougher than they all thought. Meanwhile, Teacher battles valiantly in the throes of a raging midlife crisis which seems to require several changes of clothes and other paraphernalia. The book also offers a mind blowing alternative account of the origins of the Ella-series that comes about when a local author receives a visit from the author-to-be-Ella!
The most famous primary school class and their beloved Teacher keep everyone entertained! The series is published in over 20 languages!
Material
Finnish edition
Age
7+
Timo Parvela (b.1964) is the number one children's author in Finland and Ella & Friends is his longest standing series. He is a true master of capturing how children think in familiar situations and he always does it with a sense of humour and a touch of magic.