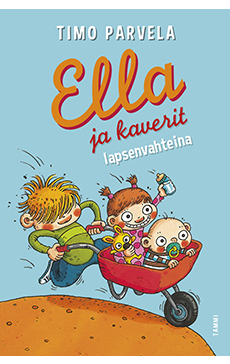 Publication date
2015
Publisher
Tammi
Format info
84 pages, B&W illustrations
Ella and Friends on Babysitting Duty
Ella ja kaverit lapsenvahteina
Would you pay Ella and her schoolmates to babysit?
In the sixteenth title in this smash-hit series, Ella and her friends learn that their teacher and his wife are going on a romantic spa break. All the arrangements have been taken care of, including a babysitter and dogsitter. But as chance would have it, Ella and her friends end up on babysitting duty, while their teacher thinks everything's in the hands of trained professionals.
Ella and her friends try their best, but it turns out to be a tougher job than they expected. Finally the friends decide to go in search of their teacher and his wife to return their children and dogs to them…
Ella and Friends on Babysitting Duty is the second book in the series to feature illustrations by Mervi Lindman. The book is just the right size, with an easy-to-read story and fun illustrations to appeal to readers at all levels, including beginners. Like the previous books in the Ella series, this latest volume also works as a stand-alone title.