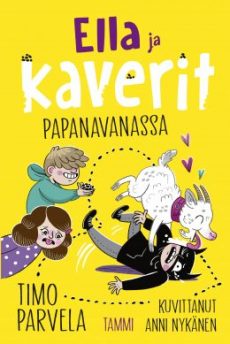 Illustrator(s)
Anni Nykänen
Publication date
2021
Publisher
Tammi
Format info
96 pp., Age 7+
Ella & Friends on a Poop Trail
Ella ja kaverit papanavanassa
The children prepare for their teacher's birthday by getting him a present they know he'll really love! Happy birthday, dear Teacher!

Ella's school will soon celebrate its 100th anniversary. Ella and her classmates overhear the school principal and their teacher as they discuss suitable ways to commemorate the special day.
'A goat would be a good gift. Or a cow. A well is also a great gift, but it might be a bit more expensive', the principal thought out loud. 'Something like this could be an asset to our school. Those are all lovely suggestions', the teacher admitted.

The children have trouble understanding what their school would do with a goat, but since their teacher likes goats, he'd probably like one of his own. After all, his birthday is also coming up and the children wish to gift him something he'd really like. But this particular present is almost more than the children bargained for.

Ella and Friends on a Poop Trail became an instant bestseller in Finland!
Material
Finnish edition