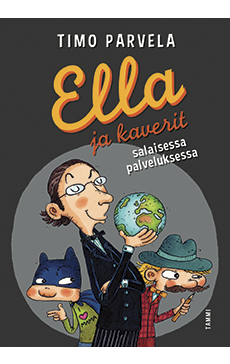 Publication date
2016
Publisher
Tammi
Format info
105 pages, B&W illustrations
Ella and Friends on His Majesty's Secret Service
Ella ja kaverit salaisessa palveluksessa
Move over, James Bond – here come Ella and her friends!
The teacher's dream has finally come true. He's been promoted to principal of the school.
"You can still call me Teacher. Of course, everyone else will call me Principal or Your Majesty." If the teacher was now a principal, we'd be his agents. If the teacher was His Majesty, we'd be operating on His Majesty's secret service. The future of our teacher and the whole school would be in our hands!"
In their latest adventure, Ella and her friends encounter a frightening digital doodad-thingy. They use secret agent tools and disguises, and finally make the leap into the digital world!
This is the 18th book in the super-popular Ella and Friends series that has sold more than million copies worldwide. It's guaranteed to make the whole family laugh! Timo Parvela is one of Finland's most popular children's authors. His books have been translated into 25 languages and have won many awards.