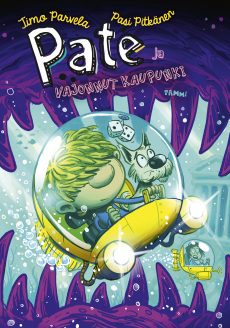 Publication date
2022
Publisher
Tammi
Format info
112 pages, colour illustrated, 7+
Pete and the Sunken City
Pate ja vajonnut kaupunki
There's a surprise on the seabed!
The ninth Pete book dives into the underwater world, but in the clear waters there's something very dark going on.
Pete's uncle invites Pete and Senja (and Totti the dog) to visit him in sunny Australia.
"Can we swim in the sea?" I check.
"Of course. It's completely safe. You just have to watch out for sea currents, sea snakes, sting rays, and sea urchins," Uncle explains with a smile.
"At least there's no need to be afraid of sharks," I say.
"I forgot that," Uncle replies.
The holiday gets even scarier when it transpires that someone out there is destroying an amazing coral reef. There's no way Pete, Totti and Senja can prepare for the surprise that awaits beneath the surface.
The bestselling author Timo Parvela gives old myths a fresh spin in Pete books as he expertly guides Pete and his friends through the most thrilling, yet hilarious, adventures.
Pete and the Sunken City became in instant bestseller with over 10.000 copies sold on publication!
Material
Finnish edition
Prizes and nominations
2017: Pete's Football Book nominated for the Lese-Kicker Prize (Germany)
2016: Pete's Fishing Book winner of the Runeberg Junior Prize
Pete books
Pete and the Sunken City Tammi, 2022 (Australia)
Pete and the Alaskan Treasure, Tammi 2021 (Alaska)
Pete and the Savannah Heroes, Tammi 2020 (Tansania)
Pete and the Monster of Black Ness, Tammi 2019 (Scotland)
Pete, The King of the Jungle, Tammi 2018 (Columbia)
Pete's Treasure Hunt, Tammi 2017 (Japan)
Pete's Fishing Book, Tammi 2016 (Norway)
Pete's Football Book, Tammi 2015
Pete's blog, Tammi 2014