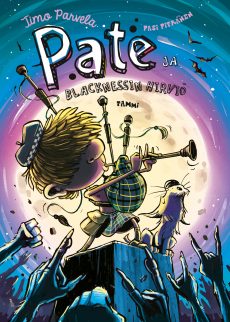 Publication date
May 2019
Publisher
Tammi
Format info
Pete and the Monster of Black Ness
Pate ja Blacknessin hirviö
Pete's best holiday ever!
Pete's family's holiday to Scotland goes to pot when their rental car is stolen. They find themselves stuck in a small seaside village with nothing but a haunted castle and rumours of werewolves roaming the surrounding moors. And then there's the fact that the sea front is apparently home to the famous Loch Ness's monster's twin brother, the Black Ness.
Pete thinks this is his best holiday yet!
It's not long before Pete, Senja-the-Adventurer, and Totti-the Super-Paws become an unbeatable trio! Onwards! To the next adventure! bellows Senja.
Series
Pete's Blog, 2014
Pete's Football Book, 2015
Pete's Fishing Book, 2016
Pete's Treasure Hunt, 2017
Pete, the King of the Jungle, 2018
Pete and the Monster of Black Ness, 2019
Pete and the Savannah Heroes, 2020
Pete and the Alaskan Treasure, 2021

Format
Black and white illustrations
Age: 7+
Material
Finnish PDF
Series rights sold
Czech (Portál)
German (Hanser)
Estonian (Ajakirjade)
Hungarian (Cerkabella)
Latvian (Zvaigzne ABC)
Polish (Widnokrag)