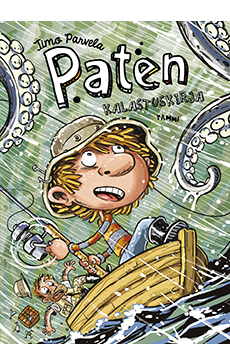 Publication date
2016
Publisher
Tammi
Format info
96 pages, B&W illustrations
Pete's Fishing Book
Paten kalastuskirja
There's nothing fishy about this fun adventure! Pete, a familiar character from the Ella series, has plenty of fans around the world.
Pete is sporty, kind-hearted and a bit forgetful, but everybody likes him. In this book, he and his dad head off to Norway on a fishing trip, but not everything goes according to plan.
Pete's Fishing Book is designed to be very easy to read. Pasi Pitkänen's unique, comic-like illustrations are a perfect match for the story. The previous books in the series – Pete's Blog and Pete's Football Book – are much loved by girls and boys, parents and teachers alike.
Series
Pete's Blog, 2014
Pete's Football Book, 2015
Pete's Fishing Book, 2016
Pete's Treasure Hunt, 2017
Pete, the King of the Jungle, 2018
Pete and the Monster of Black Ness, 2019
Pete and the Savannah Heroes, 2020
Pete and the Alaskan Treasure, 2021
Format
107 pp
Black and white illustrations
Age: 7+
Material
Finnish PDF
Synopsis
Prizes and nominations
2017, winner of the Runeberg Junior Prize
Series rights sold
Czech (Portál)
German (Hanser)
Estonian (Ajakirjade)
Hungarian (Cerkabella)
Latvian (Zvaigzne ABC)
Polish (Widnokrag)