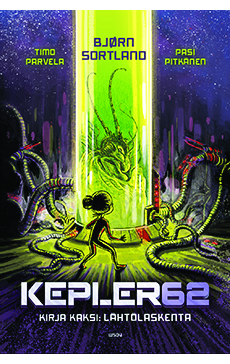 Publication date
2015
Publisher
WSOY
Format info
approx. 100 pages, four-colour illustrations
Kepler62 Book Two: Countdown
Kirja kaksi: Lähtölaskenta
Second part in the series! Be part of the story – An adventure awaits!
The Earth's natural resources are running out, and the Global Government has decided to send a group of kids on a journey to investigate an Earth-like planet that might be capable of supporting life. In order to be eligible for the mission, kids have to complete all levels of a videogame called Kepler-62. The players are selected for a training camp and then the journey to the planet Kepler-62 can begin. But not everything is as it seems…
This six-part space adventure takes readers on an exciting journey through outer space. The young voyagers become settlers when they reach Kepler-62e, and they are faced with difficult choices. They encounter alien beings, illness and finally the truth behind the lies. Who would you save?
Authors Timo Parvela from Finland and Bjørn Sortland from Norway, together with Finnish illustrator Pasi Pitkänen, have created a fascinating world where friendships are put in the balance in the unexplored reaches of outer space. These books are being published simultaneously in Finland and Norway.
Synopsis for Book Two: Countdown
Marie is the 14-year-old daughter of a wealthy arms manufacturer. With some help, she also manages to complete the final level of the Kepler game, and she is flown to Area 51 in Nevada. She receives special training in the use of weapons and wonders why that is so important. She meets Ari and Joni as well as Olivia, the group's leader, who is a medical specialist. Marie discovers the Whisperer, a space alien imprisoned in Area 51. The Whisperer warns her about going on the space voyage. Marie announces that she does not want to go, but she is drugged and sent on the voyage despite her resistance.
Materials available
English sample translations for book one and two (May 2015)
Book One: Finnish edition (July 2015)
Book One: Norwegian edition (September 2015)
Book Two: Finnish and Norwegian editions (September 2015)
Rights sold
Estonian (Ajakirjade kirjastus)
Faroese (Bókadeildin)
French (Nathan)
Hungarian (Pagony)
Korean (Jaeum&Moeum)
Turkish (Can Publishing)