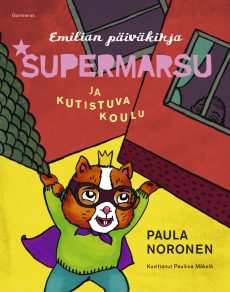 Publication date
2011
Publisher
Gummerus
Format info
189 pages
Super Furball and the Shrinking School
Supermarsu ja kutistuva koulu
Emilia's school has got a great new principal. Or so it seems…
On the first day of school Principal Kalle von Pörrenberg throws a foam sweet party in the hall and promises everyone a trip to the moon! He announces that Music class, and Music teacher Leena Lahna are no longer needed, since he has plans to combine all of the school's instruments to make one giant musical powerhouse.
Super Furball Emilia is astonished when Great Guinea tells her that the school is in danger. And then Simo finds something that makes him doubt the new principal's intentions too…
This is an environmentally aware series whose characters — both adults and children — have a wickedly dry sense of humour. The first Super Furball movie was met with rave reviews when it was released in January 2018. It's been a huge success, with over 100,000 people flocking to the cinema to see it!
Series
Super Furball Flies to India, 2007
Super Furball and the Celebrity Cow Incident, 2008
Super Furball Saves the Herring, 2009
Super Furball and the Weird Companion, 2010
Super Furball and the Shrinking School, 2011
Super Furball Scores a Goal, 2013
Super Furball's Flight to the Future, 2014
Super Furball and Time Travel Symphony, 2015
Super Furball and the Kingdom of Children, 2016
Super Furball vs. Super Snake, 2017
Super Furball and the Litterbugs, 2018
Super Furball and the Kalava Code, 2019
Super Furball's Book about Friendship, 2019
Super Furball and Robber Antero, 2020
Format
189pp
Age: 6-9
Material
Finnish PDF