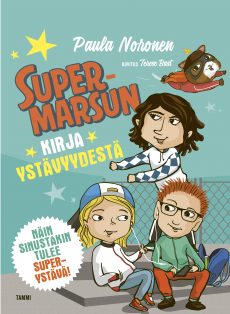 Publication date
2019
Publisher
Tammi
Format info
81 pages
Super Furball's Book about Friendship
Supermarsun kirja ystävyydestä
Learn how to become a super friend!
The best way to make friends is to be kind to others – but what's a good friend? And how cna you be a good friend if you're feeling a little bit nervous? Super Furball's advice is all helpful, even if it will make you laugh throughout the book.
Featuring expert advice, a small friendship dictionary, super fun quizzes and thrilling stories, this book will teach its reader about the true meaning of friendship.
The Super Furball series is environmentally aware and its characters — both adults and children — have a wickedly dry sense of humour. The first Super Furball movie was met with rave reviews when it was released in January 2018. It's been a huge success, with over 100,000 people flocking to the cinema to see it!
Series
Super Furball Flies to India, 2007
Super Furball and the Celebrity Cow Incident, 2008
Super Furball Saves the Herring, 2009
Super Furball and the Weird Companion, 2010
Super Furball and the Shrinking School, 2011
Super Furball Scores a Goal, 2013
Super Furball's Flight to the Future, 2014
Super Furball and Time Travel Symphony, 2015
Super Furball and the Kingdom of Children, 2016
Super Furball vs. Super Snake, 2017
Super Furball and the Litterbugs, 2018
Super Furball and the Kalava Code, 2019
Super Furball's Book about Friendship, 2019
Super Furball and Robber Antero, 2020
Format
81pp
Material
Finnish PDF