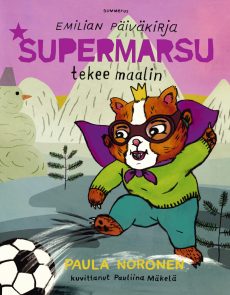 Publication date
2013
Publisher
Gummerus
Format info
131 pages
Super Furball Scores a Goal
Supermarsu tekee maalin
Emilia hears the worst news in the world: Simo is being transfered to a new school for super brainy kids.
Then she gets some more bad news: Rasvis' dad, a margerine manufacturer, is planning to build a new sports arena on the football pitch where apparently Emilia and her friends have no business in being. In the end, the mayor agrees to base the fate of the football pitch on a match: Rasvis' dad's super number one sponsored team versus Emilia and her mates.
The game is only a week away and time is running out for Emilia. Everyone on their team seems to be having problems: Antero is allergic to the ball; Ismo keeps getting the giggles; Nisu-Lissu can't stop texting and Cherry can't kick the ball with her curved foot. Are their problems fatal? Can Emilia's mates pull it together? And what will happen to Emilia and Simo's friendship?
This is an environmentally aware series whose characters — both adults and children — have a wickedly dry sense of humour. The first Super Furball movie was met with rave reviews when it was released in January 2018. It's been a huge success, with over 100,000 people flocking to the cinema to see it!
Series
Super Furball Flies to India, 2007
Super Furball and the Celebrity Cow Incident, 2008
Super Furball Saves the Herring, 2009
Super Furball and the Weird Companion, 2010
Super Furball and the Shrinking School, 2011
Super Furball Scores a Goal, 2013
Super Furball's Flight to the Future, 2014
Super Furball and Time Travel Symphony, 2015
Super Furball and the Kingdom of Children, 2016
Super Furball vs. Super Snake, 2017
Super Furball and the Litterbugs, 2018
Super Furball and the Kalava Code, 2019
Super Furball's Book about Friendship, 2019
Super Furball and Robber Antero, 2020
Format
131pp
Age: 3-6
Material
Finnish PDF