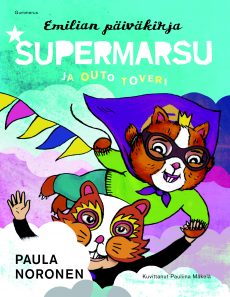 Publication date
2010
Publisher
Gummerus
Format info
201 pages
Super Furball and the Weird Companion
Supermarsu ja outo toveri
There's a new girl in Emilia's class!
At the start of the new school term, 11-year-old Emilia's teacher has an announcement to make: their school has been chosen as the official EU international school and Emilia's class will get a new girl, an immigrant called Sveti. However, Emilia and Sveti's friendship doesn't get off to the best start… Giant Guinea, on the other hand, has an important job to do and he needs an assistant. Who could it be?
Emilia's father dreams of a career as a writer, Simo is being bullied by Fat Antero and the principal decides to host a singing competition at school. Super Furball has her hands full!
This is an environmentally aware series whose characters — both adults and children — have a wickedly dry sense of humour. The first Super Furball movie was met with rave reviews when it was released in January 2018. It's been a huge success, with over 100,000 people flocking to the cinema to see it!
Series
Super Furball Flies to India, 2007
Super Furball and the Celebrity Cow Incident, 2008
Super Furball Saves the Herring, 2009
Super Furball and the Weird Companion, 2010
Super Furball and the Shrinking School, 2011
Super Furball Scores a Goal, 2013
Super Furball's Flight to the Future, 2014
Super Furball and Time Travel Symphony, 2015
Super Furball and the Kingdom of Children, 2016
Super Furball vs. Super Snake, 2017
Super Furball and the Litterbugs, 2018
Super Furball and the Kalava Code, 2019
Super Furball's Book about Friendship, 2019
Super Furball and Robber Antero, 2020

Format
201pp
Age: 6-9
Material
Finnish PDF