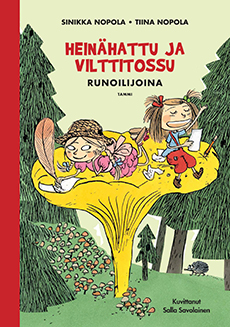 Publication date
2015
Publisher
Tammi Publishers
Format info
88 pages
Ruby & Ficelle as Poets
Heinähattu ja Vilttitossu runoilijoina
Ruby and Ficelle's mother enrolls her daughters in a poetry competition,
hoping that writing will help stop their bickering. The local police officers agree:
"poets are unlikely to have sticky fingers."
As expected , the studious Ruby receives thanks for her lovely poem about
mushrooms, annoying Ficelle in the process. But when Ruby's winning
poem is read at the awards ceremony, the audience is flabbergasted: who has
sabotaged the poem by inserting poop and toot jokes? And why is Ficelle the
only one to praise Ruby's work? Can the budding poet's reputation be salvaged?