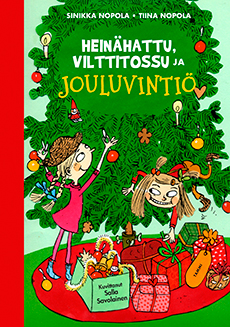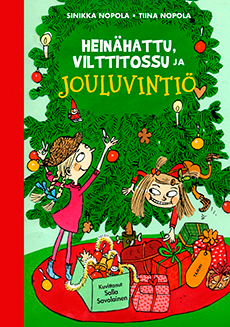 Publication date
2017
Publisher
Tammi Publishers
Format info
104 pages, colour illustrated, 5+
Ruby & Ficelle and the Christmas Gift
Heinähattu, Vilttitossu ja jouluvintiö
Christmas is only a week away and Ficelle worries endlessly if she will get enough presents. In town she spots a charity collecting donations for children in need at Christmas and immediately feels a kinship with them. Surely she is counted as one of those poor children who'd otherwise go without! Her masterplan includes wearing a coat she digs out of a bin and holding a cardboard with a plea: "Giv pour child pressents".
To Ficelle's disappointment, she is not very successful as a pauper. Maybe people might give more generously to a Christmassy street performer instead? But it is not to be.
At home, as if to add insult to injury, Ficelle overhears mum and dad calling the sweet and helpful Ruby a "proper Christmas child". What on earth could Ficelle do to try to match her perfect sister in their eyes? A multitude of comical blunders paves the long week towards the awaited arrival of Father Christmas and the true gift of the day.
Ruby & Ficelle Books

Illustrated by Salla Savolainen:
R&F and The Chicken (2019S)
R&F and the Silly Angel (2018S)
R&F and Christmas Gift (2017S)
R&F and the Arty Neighbours (2016 S)
R&F as Poets (2015 S)
R&F and Big Elsa (2014 S)
R&F and the Annoying Pest (2014 S)
R&F and the Sassy Schoolgirl (2013 S)
R&F and Baldy Bob (2012 S)
Illustrated by Markus Majaluoma:
R&F's Year (2006)
R & F and the Forbidden Fish (2005)
R & F and the Dancing Constable (2003)
R & F and the Arty Neighbours (2001)
R & F and the Annoying Pest (1999)
R & F and Big Elsa (1997)
R & F on the Chase (1995)
R & F Look for Christmas (1993)
R & F Need a Vacation (1992)
R & F and Grandpa (1991)
R & F and the Baby (1990)
Ruby & Ficelle (1989)