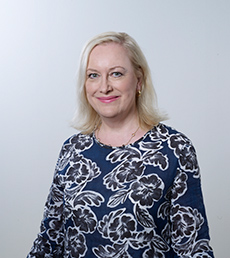 Tiina Nopola
Tiina Nopola is a children's writer, playwright and screenwriter.
She has written Siiri picture books (illustrated by Mervi Lindman), and with her sister Sinikka Nopola she has co-authored the Ruby and Ficelle book series (illustrated by Markus Majaluoma and Salla Savolainen) and the Wills & Nelli book series (illustrated by Aino Havukainen, Sami Toivonen and Christel Rönns).
Tiina Nopola's works have been translated into more than twenty languages. Feature films written by Tiina Nopola and Sinikka Nopola were the most popular films of the year in Finland in 2002 and 2008–2014.
Selection of Works
Siiri Series
Siiri and the Lucky Horse (2016)
Siiri Finds a Seashell (2015)
Siiri and the Star (2014)
Siiri and the Wild Toddler (2013)
Siiri and the Yeti (2012)
Siiri Makes a Goal (2011)
Siiri and the Scary Ghost (2010)
Siiri's Christmas Surprise (2009)
Siiri and the Perky Puppy (2008)
Siiri and the Little Flea (2006)
Siiri and the Horrid Pig (2005)
Siiri and Messy Gretel (2004)
Siiri and the Upstairs Neighbor (2003)
Siiri and her New Friends (2002)
Ruby & Ficelle series
Illustrated by Salla Savolainen:
R&F and Christmas Gift (2017)
R&F and the Arty Neighbours (2016)
R&F as Poets (2015)
R&F and Big Elsa (2014)
R&F and the Annoying Pest (2014)
R&F and the Sassy Schoolgirl (2013)
R&F and Baldy Bob (2012)
Illustrated by Markus Majaluoma:
R&F's Year (2006)
R&F and the Forbidden Fish (2005)
R&F and the Dancing Constable (2003)
R&F and the Arty Neighbours (2001)
R&F and the Annoying Pest (1999)
R&F and Big Elsa (1997)
R&F on the Chase (1995)
R & F Look for Christmas (1993)
R&F Need a Vacation (1992)
R&F and Grandpa (1991)
R&F and the Baby (1990)
Ruby & Ficelle (1989)
Wills & Nelli Series
Illustrated by Christel Rönns:
W&N: The Artist Within (2017)
W&N: Something in Common (2016)
W&N: The Unusual Suspects (2015)
W&N: The Scrooge of Seville (2014)
W&N: The Look-alike (2013)
W&N: Nelli's Plight (2012)
Illustrated by Aino Havukainen and Sami Toivonen:
W&N: Wills' New Dad (2011)
W&N: Star Struck (2009)
W&N: The Last Ice-Cream (2007)
W&N: A Gaming Frenzy (2006)
W&N: Teacher's Pet (2004)
W&N: The Persistent Pimple (2003)
W&N: Dandy Andy (2002)
W&N: Freezer Fran (2001)
W&N: Wills & Nelli (2000)